Hubba-Hubba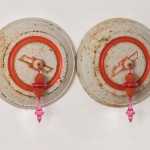 Ken Marquis
The Landfill Project
Wilkes Barre, PA
Dear Ken,
This wall sculp titled "Hubba-Hubba, is inspired by burlesque strippers pasties.  The Chevy hubcaps, with the rust speckled cream color and the orange logo and orange outer trim were all fantastic to work with.  It took awhile to find the right tassels but I think it came together just right in the end.
When mounting the two pieces on the wall (I have included some dry wall screws for mounting) just make sure that the caps touch each other to provide the proper cleavage.
You can rotate the caps for positioning the direction of the Chevy Logo anyway you like, as the tassels will always hang straight down.
Sincerely,
Kenn Speiser