Spindle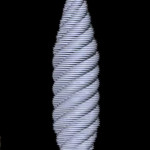 Spindle Spin Video
"Spindle"
My inspiration for this sculpture goes back ten years to an antique store where I found a box of spindles wound with thread around a hard wood bobbin shaft.  As soon as I saw them I knew they were important objects and I wanted them around me, in my studio where I think.
After visiting Slater Mill in preparation for this project and seeing all those wonderful white spindles similar to the ones in my studio, I finally had the opportunity to work on some ideas. It was a nice fit that went back into my vault of haunting thoughts and interests.
Once the shape was identified and developed, the next thing I thought about was the size.  The building at the site is 38 feet high, making my target range for the sculpture 20 – 25 feet tall to be in scale with the front of the Visitor Center, and be a Gateway Marker to the Blackstone River Valley Corridor.
My next objective was how to make this large shape feel like a spindle without literally looking like one.  A simple form with smooth sides was not going to feel like yarn, thread, string, it needed color and texture, stuff for the eye to enjoy.
The answer was a elegant spiraled sliver of white, a 3-Dimentional collage of textures, a column of angles and curves, each layer made up of multiple arced discs designed to catch light and create a tight pattern of shadows around it's entire surface top to bottom.